Il the allo zenzero: un toccasana per le giornate d'autunno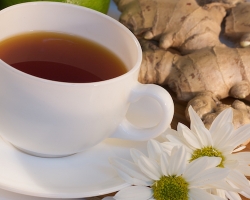 Una bevanda calda che unisce le proprietà dello zenzero a curcuma, cocco e miele. Da provare assolutamente
Non ci stancheremo di ripetere le grandi proprietà dello zenzero, in quanto aiuta il sistema immunitario, facilita la digestione e riduce le infiammazioni.
Ci viene in aiuto quando siamo raffreddati, abbiamo mal di testa, o non riusciamo a digerire bene e per questo soffriamo di mal di stomaco. Una delle maniere più semplici per godere dei benefici dello zenzero è preparare un the che contenga questa radice che ormai possiamo definire un elisir di salute. 
Per preparare un ottimo the allo zenzero abbiamo bisogno di una tazza d'acqua, di un cucchiaino di zenzero grattugiato e possiamo aggiungere anche un cucchiaino di curcuma, del latte di cocco e un po' di miele per addolcire il tutto.
Una volta che l'acqua bolle aggiungiamo zenzero e curcuma e lasciamo andare a fuoco lento per una decina di minuti mescolando di tanto in tanto.
Poi aggiungiamo il latte di cocco e il miele.
Ecco un toccasana per le giornate autunnali!
Questo articolo è stato letto 19 volte.
antibatterico, antiossidante, curcuma, digestione, latte di cocco, miele, salute, the, ZENZERO