Energia dalle onde e protezione delle coste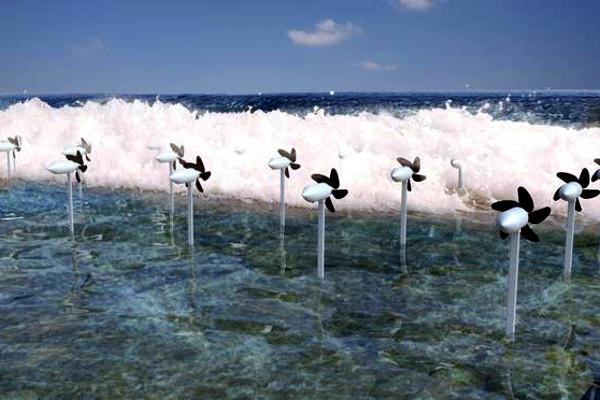 Le nuove turbine giapponesi oltre a produrre energia dalle maree difendono le coste dall'erosione
I ricercatori dell'Okinawa Institute of Science and Technology (OIST) in Giappone stanno lavorando per creare delle turbine speciali che, oltre a raccogliere energia dalle onde contemporaneamente proteggono le coste dall'erosione. Le turbine sono progettate per essere ancorate al livello del mare con cavi di ancoraggio vicini a tetrapodi (strutture di calcestruzzo a forma di stella progettate per ridurre l'erosione) o a barriere naturali come le barriere coralline. Queste strutture hanno enormi potenzialità per attenuare l'impatto di onde potenti sulle rive e catturare l'energia oceanica apparentemente infinita.
Lo sdoppiamento della funzione di queste turbine trae vantaggio dalle infrastrutture preesistenti in Giappone, visto che il 30% delle rive del mare del paese è coperto da tetrapodi e interruttori d'onda. Inoltre, utilizzando solo l'1% della riva del continente giapponese si possono generare circa 10 Gigawatt, un'energia equivalente a quella prodotta da 10 centrali nucleari. Numeri e possibilità incredibili, insomma.
Le turbine saranno progettate per stare in sicurezza, in tutta la filiera energetica, ma non solo, saranno progettate anche per la sicurezza della fauna marina – infatti, la velocità delle lame è calibrata e sia le lame che la struttura di supporto sono flessibili. Per ogni turbina si è stimata una durata di dieci anni prima della sostituzione, ma i creatori stanno pensando di fare ancora meglio nel futuro.
L'immagine che hanno raccontato di voler avere è quella del pianeta tra duecento anni dopo, con le turbine sulle spiagge giapponesi che ancora lavorano sodo e bene.
Staremo vedere. Noi o i nostri pronipoti, insomma.
Questo articolo è stato letto 388 volte.